This article was published on: April 14th, 2011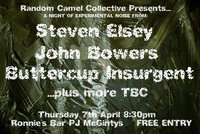 The Random Camel Collective's noise night returns! For those who haven't been to one of these before, it's a bit like one of those folk clubs only much louder and slightly worse for your mental health (in the best possible way!).
April's session brings you live sets from:
Steven Elsey – One third of the drone outfit Tonesucker. First solo set at the rcc noise night. www.onoma.co.uk
John Bowers – Bearer of the magic blue orbs of wonder. www.onoma.co.uk
Buttercup Insurgent – A member of local noise/improv group TOE twatting about on a circuit bent stylophone and other such nonsense.