This article was published on: October 21st, 2011
Get it free if you come to Chronophonics 1, Grinning Rat, St Helen's Street, Ipswich on October 27 where Tonesucker, Ryan Jordan, Brideburger and Menagerie will be playing live.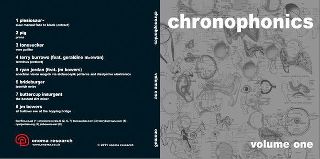 Chronophonics Volume One CD
Tracks by Plesiosaur~, Pig, Tonesucker, Terry Burrows (feat. Geraldine McEwan), Ryan Jordan (feat. JM Bowers), Brideburger, Buttercup Insurgent, JM Bowers.